Wrenbury canal routes for holidays & short breaks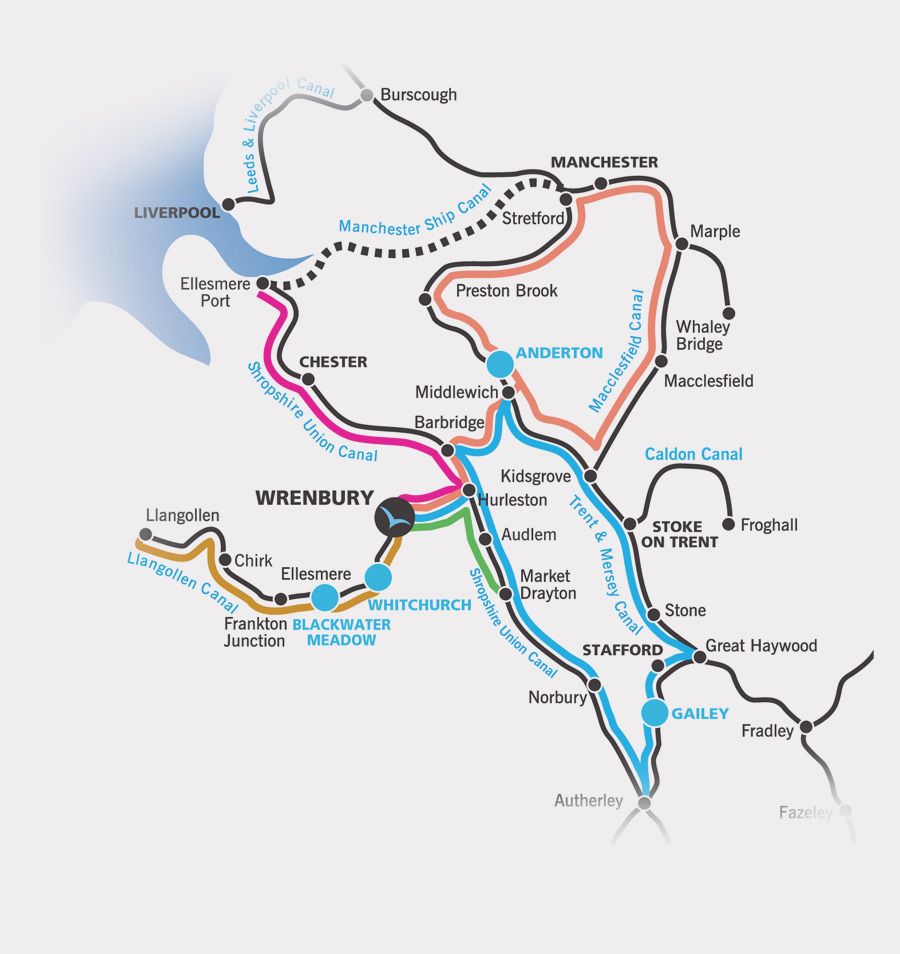 7 – 21 Night routes
Key: 

☉ llangollen & Rtn

 

☉ Four Counties Ring

 

☉ Chester/Ellesmere Port/Rtn

 

☉ Cheshire Ring
3 – 4 Night routes
Guides: Pearson 3, Nicholson 4, Lockmaster 8
The short breaks from Wrenbury are superb, with plenty of glorious scenery.
3 nights, 10 hours, 20 locks (Whitchurch)
Grindley Brook has six locks, three as a staircase with a lock-keeper in attendance.
With several good shops, Whitchurch is very good to either explore, or stock up on supplies.
3 nights, 17 hours, 20 locks (Ellesmere)
The run into Ellesmere is through an area of outstanding beauty, with a series of Ice-Age lakes known as 'meres' very close to the canal.
4 nights, 26 hours, 24 locks (Chirk)
Towards the Welsh border at Chirk, the country's fine hills come into view and the scenery becomes altogether more dramatic.
Guides: Pearson 4, Nicholson 4, Lockmaster 4
3 nights, 13 hours, 28 locks (Tiverton)
From Wrenbury the canal travels down to the Cheshire Plain where open pastures, woodland and hills accompany the wide canal towards Tiverton.
4 nights, 18 hours, 30 locks (Christleton)
With only one lock between Tiverton and Christleton, this is a leisurely cruise, turning before the descent into Chester
Guides: Pearson's Guide 3, Nicholson Guide 4, Lockmaster 10
Heading south from Hurleston on the Shropshire Union takes a route through open countryside. With just a few, evenly spaced locks until the foot of the Audlem
flight, this is an extremely relaxing cruise to an attractive village.